JoJo and Sully's Dirty Food Truck was back in town this morning, serving made-to-order breakfast for everyone at camp.
Here's this week's crew…
Lonely Lisa chats off everyone's ear and holds up the line.
Messy Mona: half of what she prepares ends up on the floor.
The Dirty Doctor: he knows CPR, but doesn't know the first thing about food poisoning.
And Sloppy Jo. Need we say more?
One of the choices on the menu was "The NanCon," which included some of everything on the menu plus Backdoor Donuts topped with whipped cream.
One of the options for classes this morning was pie-making with Zach! He spent a lot of time over the last year mastering the art of pie-making with his Nana back at home. He recently started an instagram account to show off his delicious pies! Follow him @bacon_with_the_biscuits. Tomorrow we get to try out our pies and we can't wait to indulge!
Another class option was art with Madeline.
James and Sean got to go on another bike ride before lunch today with Kellen and Daniel. It was a race to the finish to make it in time for the lunch bell!
Patty and her ladies looked super cute in their matching tie dye and had a little photoshoot before lunch on the main cabin porch. Could they be more adorable?! We think not.
Sam and George snuck into the main cabin office and pretended to be Liza and Kelsey for part of the afternoon.
Next up was Session 2's Challenge-Noon tradition! And the challenges were INTENSE!!
Things started off with a root beer drinking contest between Moriah, Harry, Huck, and Jamie. Rather than see who could drink the fastest, we instead judged who embodied the true spirit of the drink while sipping! Moriah won hands down!
Next up, Faith carried on her tradition of challenging a Ho family member to reciting the alphabet backwards. Gabrielle took up the challenge this year, but after faltering midway through, Faith pulled ahead for the lead!
Ophelia brought WWE to Camp Jabberwocky with a legendary match-up between herself ("The Boss") and Zach (AKA Z "The Big Dog" Money). After an intense 2 minute stint in the steel cage, Ophelia handily pinned Zach down to take the victory and the WWE Championship Belt!
Thank goodness we had Dr. Tim on site so he could revive our fallen wrestler.
We turned things around to a more tender note following our wrestling match with a hugging competition from NanCon. Jamie, Alex, and Huck all competed to win her heart with their hugs, and they were all winners in our eyes.
James and Sean took their dancing shoes to the floor and challenged our wrestling champion Ophelia to a dance off. Everyone had some pretty fantastic moves, making it IMPOSSIBLE for us to choose a winner!! We were just excited to see such talent!
Finally, our Momeraths cabin (Sam S., George F., Sam W., Jake, Zach, Huck, and Harry) organized a final challenge involving pies. The first part of the challenge was to see who could slam the best pie in the face. The second part of the challenge was to see who could clean off the pie the best. It was a messy affair for sure!
After a long rest, we packed up the vans to head to Drumming on the Beach. It was a WINDY day, but that didn't stop some of us from running straight into the water.  We also had our friends from Gnome Surf Therapy stop by for some really cool activities with us. There was surfing, corn hole, rock painting, and yoga. We loved seeing our friends get out on the surfboard for the first time, and we are so grateful to Gnome for bringing so much fun to the beach today!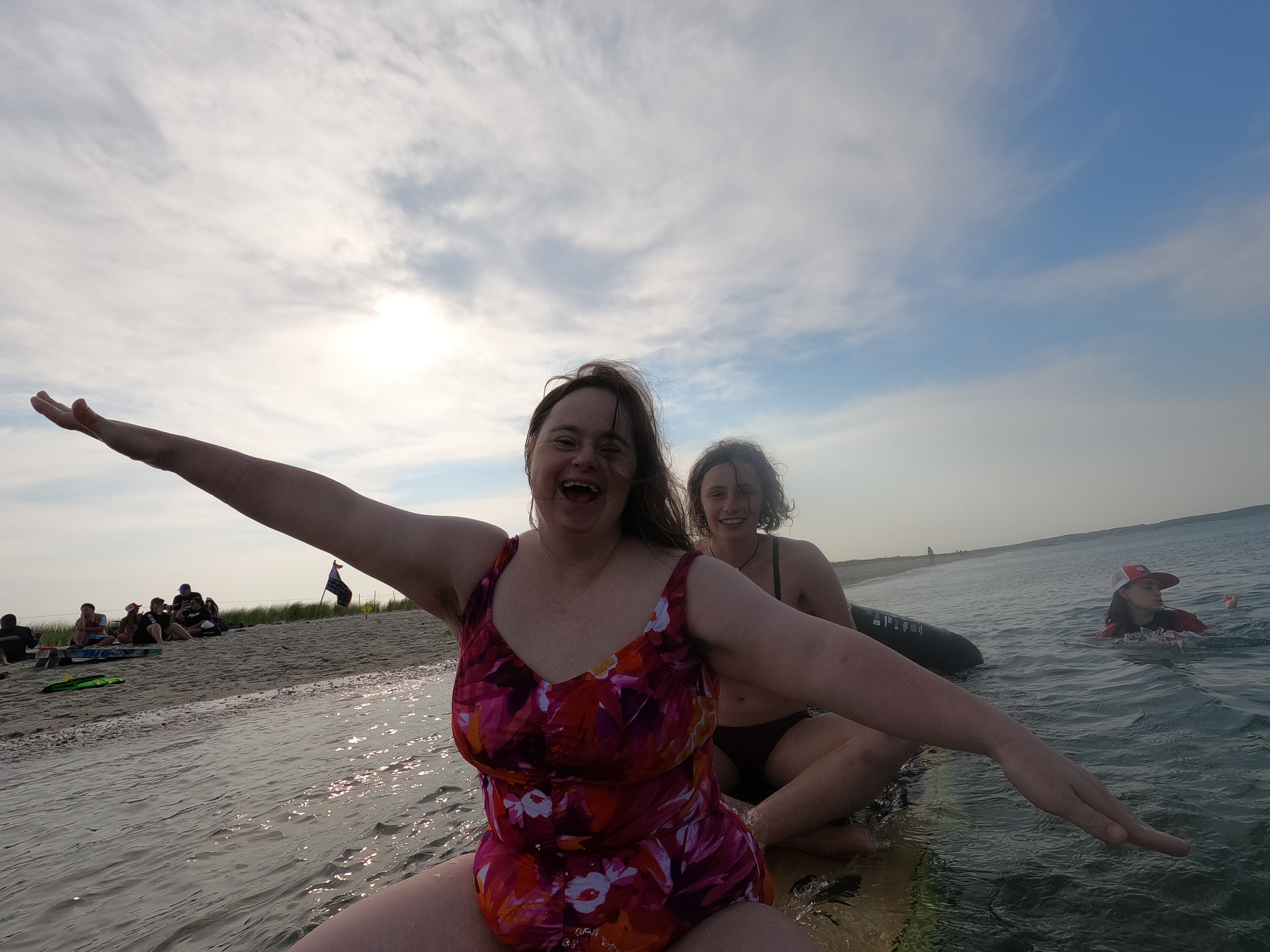 After an incredibly windy dinner and dessert, we packed everything back up, came back to camp, and hit the showers. Now, after a long day of dancing, surfing, and pie making, we are safe and sound in our cabins and ready for a good night's sleep! We feel that we've certainly earned it! Sweet dreams!
Love,
Camp