This morning we had a special treat! Traeger and Kenneth, artists that will be helping with tonight's Jabberwocky Art Show came down to teach us how to paint. We all walked down to Owen Park where they had set up large canvases and paint.  Some campers went down to the beach to paint the scenery up close, others stayed in the shady gazebo. These paintings will all be displayed in the Art Show. 
After an afternoon at the beach, camp split up for evening activities. Some of the campers went on the Skipper Boat to catch some fish. Others went into town and had a picnic dinner and ice cream. 
Kip admired the yummy fish that he caught. We better cook that first!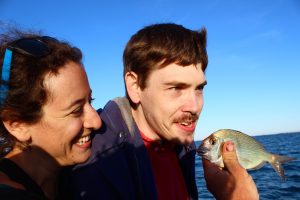 Chris welcomed his fish onto the boat.
Steph caught a big one!
Another great Vineyard day with a perfect sunset. If you are in town today, come join us for the Jabberwocky Art Show.
Also, tomorrow is our Variety Show, which is in place of the usual camp play. Join us at 7PM at Camp Jabberwocky to join the fun.