IF YOU ARE A PARENT OR PERSON PICKING UP A CAMPER WONDERING WHAT TIME TO BE AT WOODS HOLE, THE ANSWER IS 10AM. WE ARE TAKING A 9:30 FERRY FROM VINEYARD HAVEN THAT GETS TO WOODS HOLE AROUND 10:15 BUT PLEASE BE EARLY! THANKS! ALSO WE WILL BE CRYING.

Today was wonderful because we kept distracting ourselves from our impending doom/sadness by doing lots of wonderful activities! We're really really good at activities. First, we fueled up with an amazing meal of breakfast nachos and french toast, then we headed off to classes! There was more painting with Madeline for the art show we have coming up in August. Once you see these you're definitely going to want them in your life, so stay tuned for more details!
This is the finished product of Skylar's incredible piece: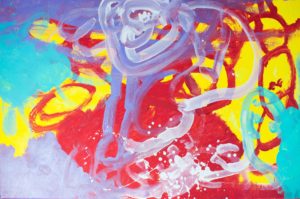 And George added some of his very impressive fish to the painting base that Sue laid down yesterday!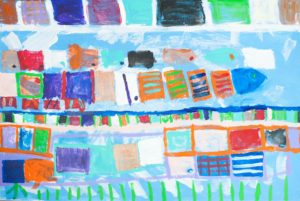 Bethie's dot work looked amazing on the background David made!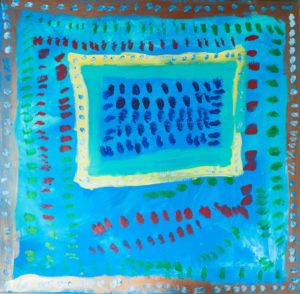 And Marie produced this deliciously toned piece!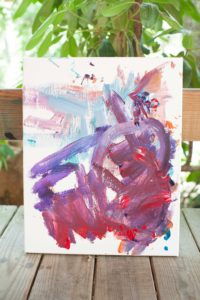 There was also a final (UGHHHH) horseback riding class!
There was also one last (NOOOOO) archery class!
After all our classes, we got together for a last lunch (WAHHHHH)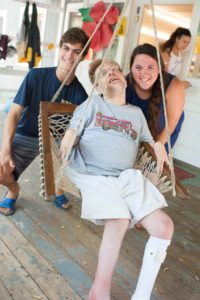 And then took a quick nap at our last rest period (SAAAAD) Here's a cabin photo of Slithy Toves (sadly minus SKYE WE MISS YOU SKYE), look at that family, wontchya?
aaaand after rest period we loaded up the bus for one final trip to the ocean (WHY WHY WHY WHY)
The beach was everything we wanted and more! People who don't usually like to get in the water had apparently been saving it all for today, and we all had a great time splashing each other and swimming around. 
After the beach, we showered, ate soooo many tacos and healthy ice cream and healthy cookies. Just kidding, everything was full of tasty tasty sugar. Then we worked off our sugar high at the annual highlighter party! So if you see any white shirts with neon buses or hearts all over them, that's what those are from!
And now we are really sad and want to stay here forever, so we're probably going to do that. See everyone in a few months, no need to go to the ferry tomorrow. What a summer it has been, you guys. We did it. Love you, love us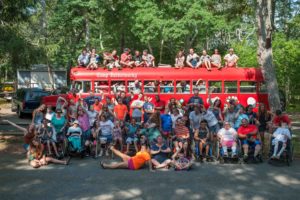 Love,
Camp