This is another collaborative guest blog from Scott because his counselor is currently covered in hot glue and spray paint and is unable to blog at the moment… Enjoy!
From where we left off yesterday, we went to the beeeeeach and had a sandy and necessary rest period.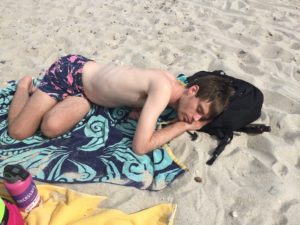 After rest period, we went in the water to cool off from the heat! Then, after spending so much time in the ocean, we had a craving to watch Finding Nemo. This was ALSO in preparation for watching Finding Dory, which we are excited to do on Tuesday!
For the evening reading, Scott read his Wikipedia article that he wrote three years ago for a class. The reading talked about his first communication device and the wonderful Kim Ho, who was his first speech language pathologist. Here's a lot of pictures of her and her family. Kim also took almost all of these photos for the blog today, thank you Kim!!
Today was more parade preparations, with both counselors and campers working their fingers and toes to the bone to make their costumes and props. Patty and Scott raced to finish painting tea cups for the float with their feet, and Patty totally crushed Scott! Sorry, Scott.
We had a break between parade prep and dinner, so we made the most of our brief gasp of freedom. Some people went biking around the neighborhood, while others went to town and chugged as much coffee as they could, then topped it all off with some ice cream because a balanced diet is important.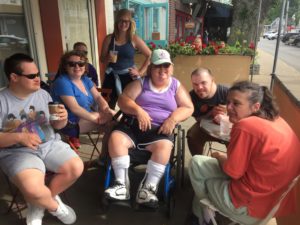 One person who didn't go into town today was Sam. He instead spent hours in the kitchen measuring, chopping, and cooking us an absolutely incredible chili dinner! Thank you so much, Sam! It was so delicious!!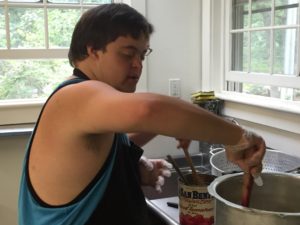 We're really tired from crafting so much but the counselors will stay up as late as it takes to make sure everyone is looking their best and wonderland-iest for the parade tomorrow! If you're on the island, please come and scream your lungs out with us as we dance our way through Edgartown!
Love,
Camp