Here's our joke of the day: What has fins, rows of teeth, and cute butts? SHARKS!
We did two activities that could have included sharks today, but thankfully only one of them actually did. 
First we have to brag about breakfast, because ohhhh boy was our breakfast better than yours. We woke up, got out of bed, and got onto the bus to head straight to the beach for the third day in a row! Each day we have upped our game: day 1 we visited and swam, day 2 we visited, rested, and swam, and day 3 we visited, had BREAKFAST, and swam!! Maybe tomorrow we will have church on the beach! Who knows! 
Breakfast was incredible! Our crew of chefs, organizers, and grillmasters made tasty eggs and sausage and bought deeeelicious donuts, scones, and pull apart raspberry bread. Here they are demonstrating the right way to display and eat the donuts, as well as what to do when it starts raining cheese.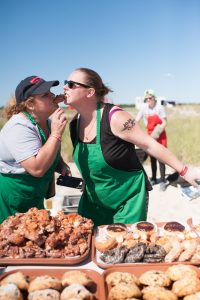 (Don't worry Brynn's mom, that's not a real JoJo tattoo…yet).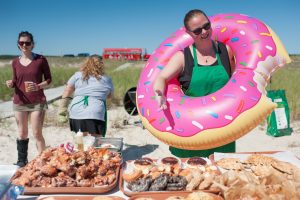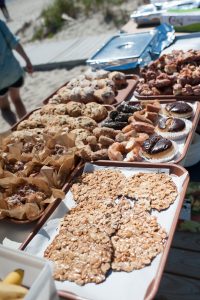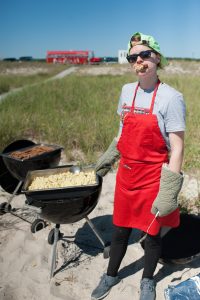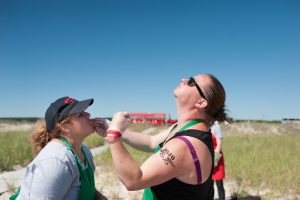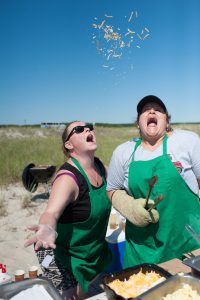 They're always so prepared!
Everyone enjoyed the breakfast, but then we had to wait until we were well-digested to be able to swim. Thankfully, Alana's dog showed up to lick our faces and take our mind off the fact that we all really had to pee in the ocean (just kidding we don't pee in the ocean).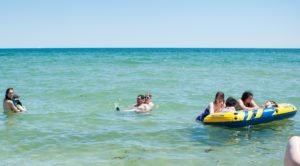 After the beach, we came home, showered, and rested briefly before starting to get ready to go to the Sharks baseball game!! We made signs, wore all of our purple clothes, and warmed up our vocal chords for some good ol' fashioned cheering! It was, as usual, a beautiful day and the perfect weather for a ball game.
Sharky came by for some photo ops and to try to eat Matt! It was super fun and a little terrifying.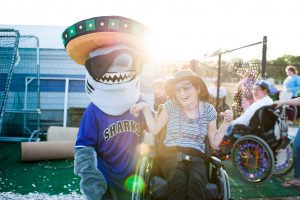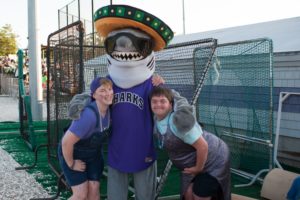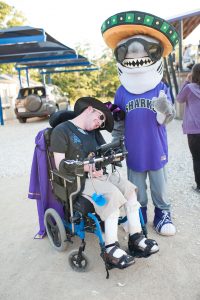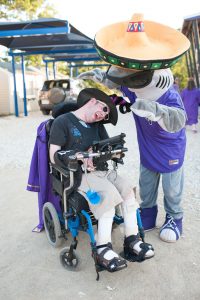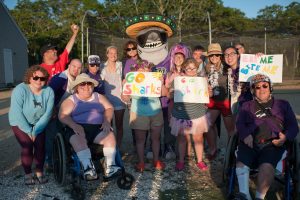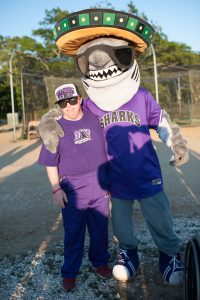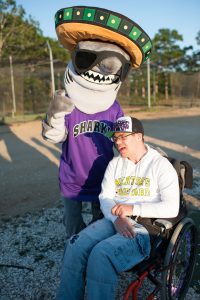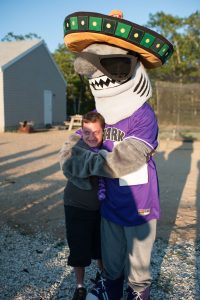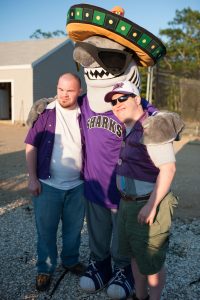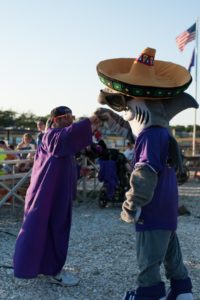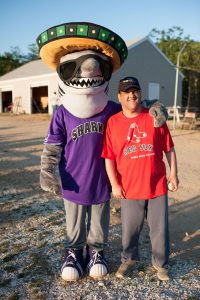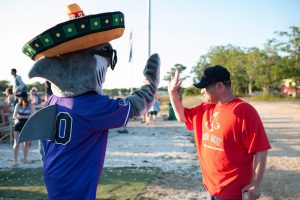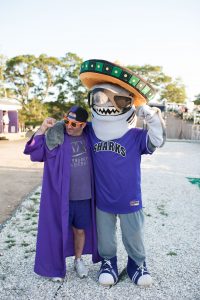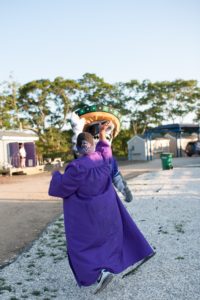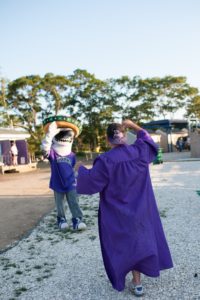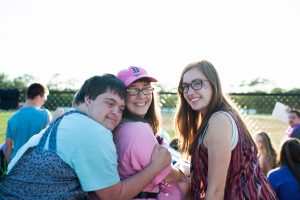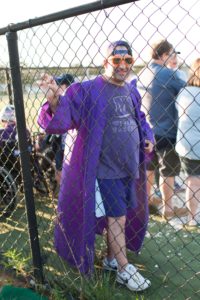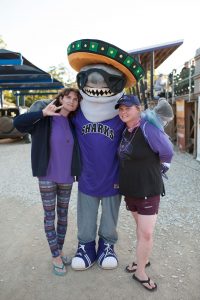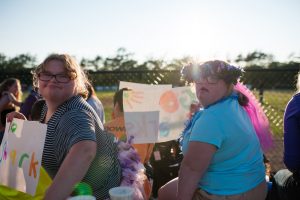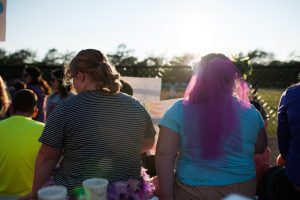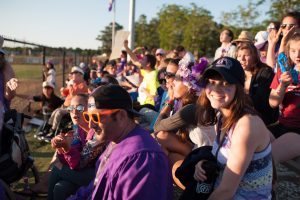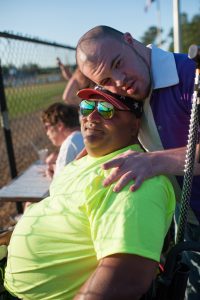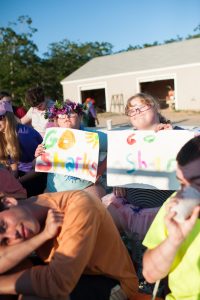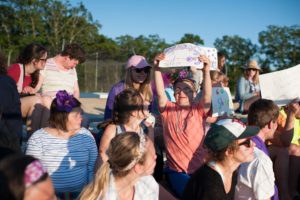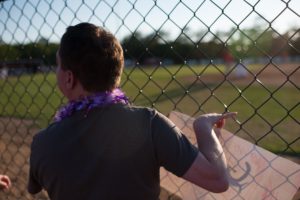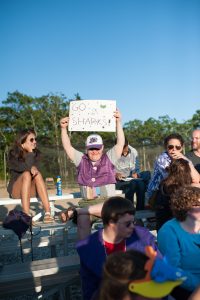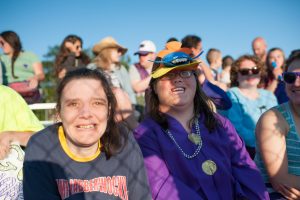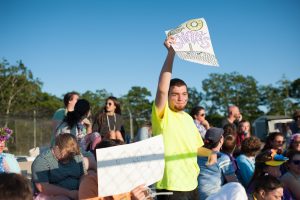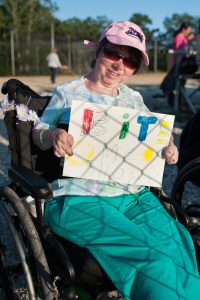 George and Adrianne practiced their mean mugs to intimidate the Sharks' competition: "the Rox"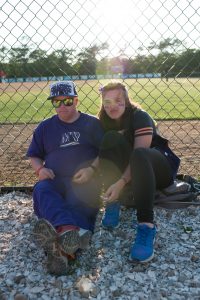 And then it suddenly started raining chips! Thankfully Brynn had taught Maggie how to deal with raining cheese, so the chips were nothing they couldn't handle.
Partway through the game, anyone who wanted to was invited to participate in a race around the bases! Seth had a great start, but man we really didn't know how quick 7 year olds can be! Guess we'll have to start holding wind sprint class…
Marie found a nice young Shark who helped her collect sticks to break while watching the game…

…then Maggie found that same nice young Shark!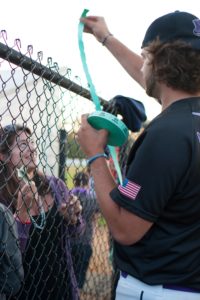 To celebrate the fact that the Sharks were in the lead, we stormed the field and performed the YMCA, then quickly got off the field so the next inning could start.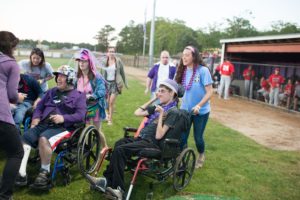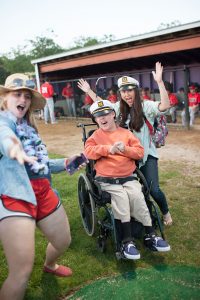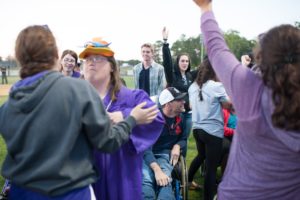 Cathy was too busy rocking out to the Village People's greatest hit to see Sharky looming behind her, craving seconds after he previously finished off Matt. dunnnnnDUN, dunnnnnDUN, dunDUNdunDUNdunDUNdunDUN.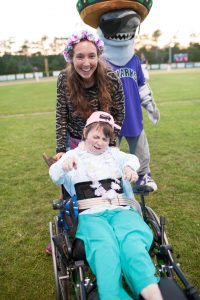 Hannah took the opportunity being on the field to finally catch up with her good pal the Umpire, thank him for calling a good game, and make sure that he had gas in his car to get home later.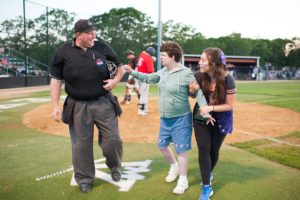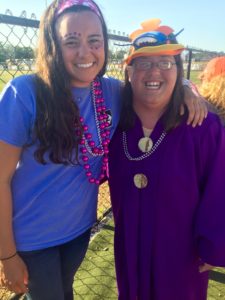 All in all it was another perfect day.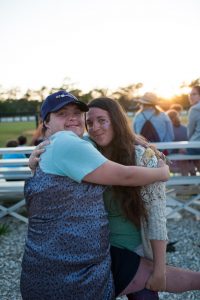 See you tomorrow for more attractive young men because the VINEYARD SOUND IS COMING!!!! 
Love,
Camp