If you weren't lucky enough to see our play "Back To The Future," I feel bad for you. But cheer up, because I'm going to try to give you the full experience. (For the Jabberwocky super-nerds in the crowd, I'm going to reveal that some of these photos were taken during the dress rehearsal and some during the actual performance, so that's why you'll see differences in makeup and hair.)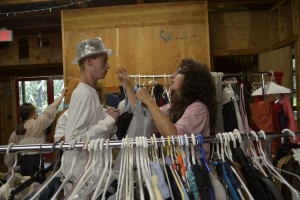 Putting the finishing touches on makeup and costumes.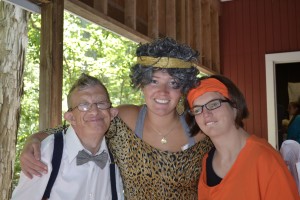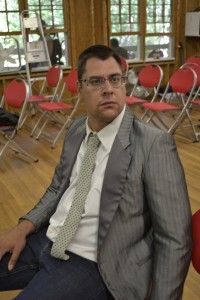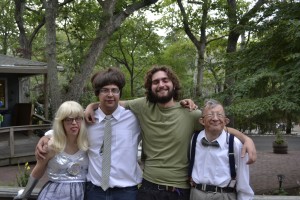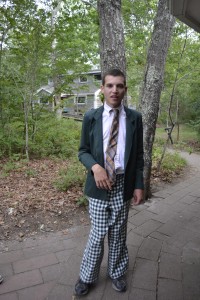 Jake looks great as a mean school principal!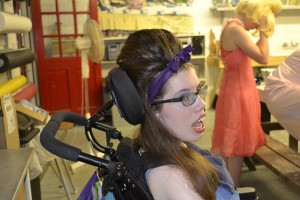 Emmy's hair is so amazing, you need to see the front AND the side view.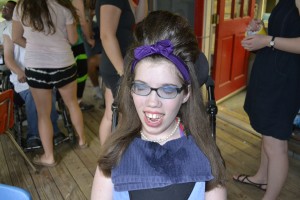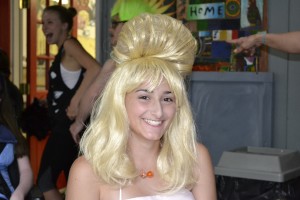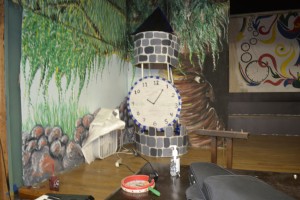 And the props are ready. (Thanks, Emily!)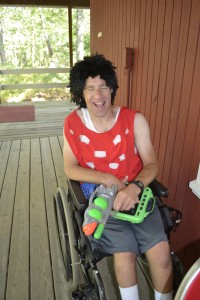 Places, everybody!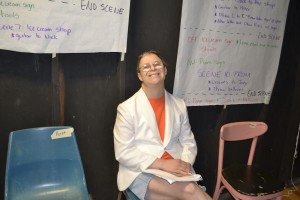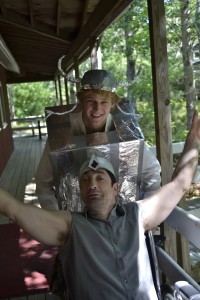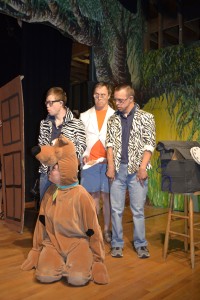 The curtain goes up on our heroes, Arty (Chris B.) and Marty McFly (Phillip), their trusty dog, and their bandmates. They're in Doc's lab where there are a bunch of robots standing around, so they decide to press all the buttons on the robots to see what happens.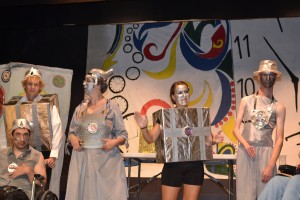 The robots! Robbie M. is a dancing roboto!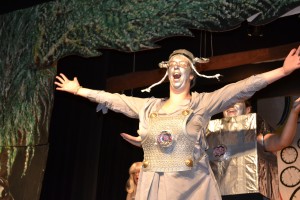 Stacey is an opera robot!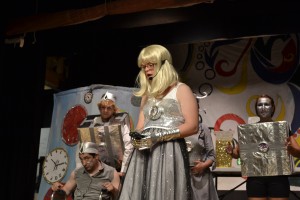 Celeste is Taylor Swift Bot.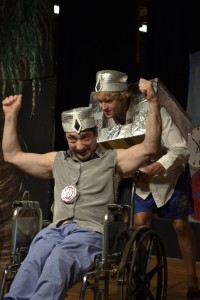 Jeremy is Muscle Robot.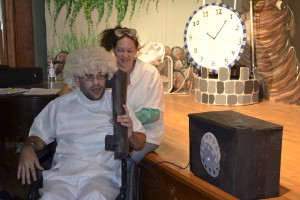 Then Doc (Gage) calls up on his very large rotary phone and tells Marty and Arty he has to show them an incredible discovery.
Then at school, there's an audition for a talent show, with some very mean judges.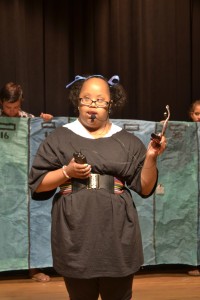 But Stephanie charms them with her rendition of "Under Cover."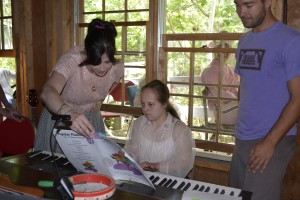 And Claire wows them with her incredible skills at the piano. (She played "Edelweiss"!)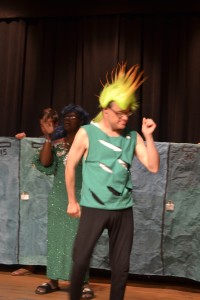 Nathan and Dominic danced to Lady Gaga. After all these years, Dominic has finally graced the Jabberwocky stage with his presence, and we are beyond thrilled.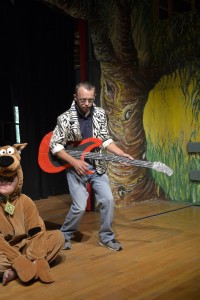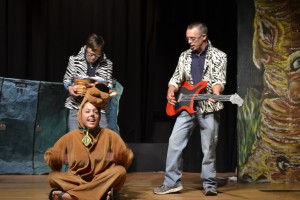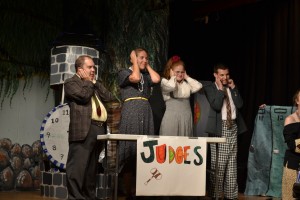 Unfortunately the mean judges hated Marty and Arty's band playing "We Will Rock You." (Even though the real audience loved it.)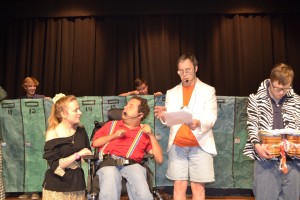 Justin and Cy, members of the band!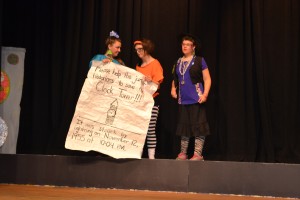 Then the Junior Historians group (Erin and Sarah O.) came in and shared the information that the town clock tower had been struck by lightning on November 12, 1955. (Remember this bit of trivia! It's going to be important later!)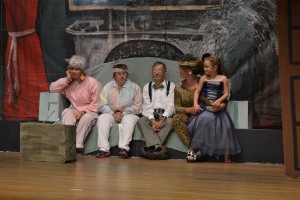 In the next scene, the McFly parents (Richard and Grace) and grandparents and little sister (Susannah) are sitting around watching Saturday Night Live…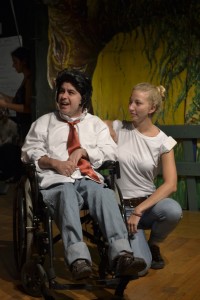 …when Richard's mean boss Mr. Biff (Robbie D.) comes in and treats him cruelly.
Robbie is so nice in real life, who knew he could be so mean?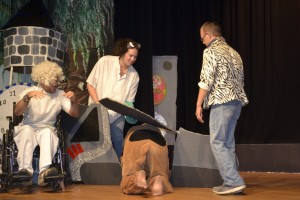 Now Doc shows Marty and Arty the Delorean, his time machine that is a car. Of course they test it out on the dog first.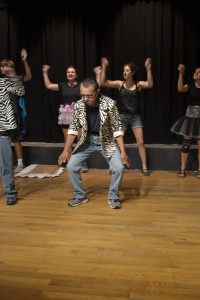 Doc tries to explain the physics behind his invention with the song "Time Warp" from the Rocky Horror Picture Show.
But it doesn't make any sense. Oh well, whatever, our heroes get into the time machine anyway.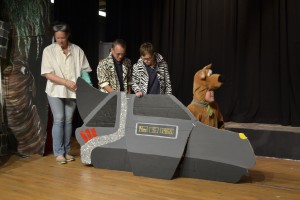 Unfortunately, bad guys Nathan and Michael P. come after Doc because he stole their plutonium, and they kill him.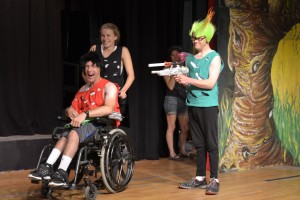 The McFly brothers and their dog only escape by taking the Delorean back to 1955, where they meet…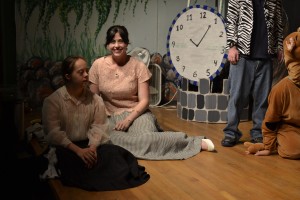 …a young version of their mother, the lovely Claire.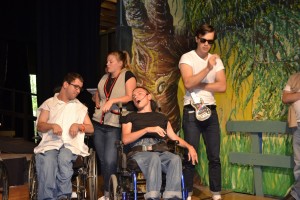 And this group of tough guys. (Paul, Kyle, Robbie D., Nick, and Corey.)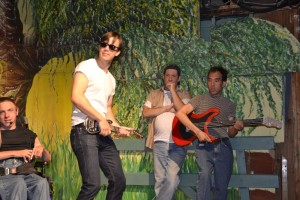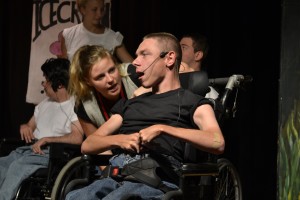 The tough guys sing "Pour Some Sugar One Me." (No, we don't care about anachronisms at Camp Jabberwocky.)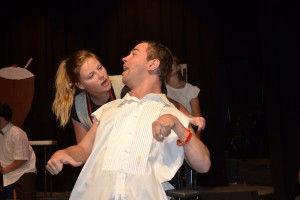 Taylor spent two weeks teaching everyone all the songs in the show. Here she's helping her own camper Paul.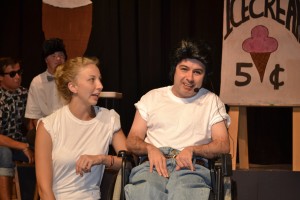 Gradually the McFly brothers realize that this teenage boy is Mr. Biff, their dad's future mean boss.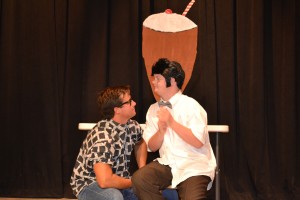 And this nerdy boy (James B.) is their dad.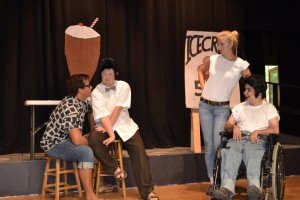 Biff picks on the dad and the gang starts to beat him up.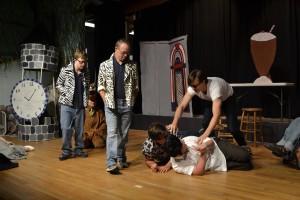 The McFly brothers intervene. So they all have a dance-off, which is obviously what you'd do in that situation.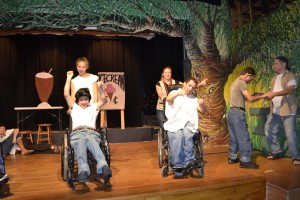 Biff and his guys are pretty amazing…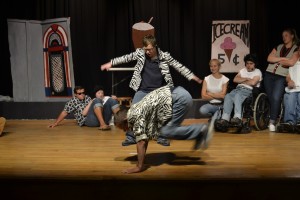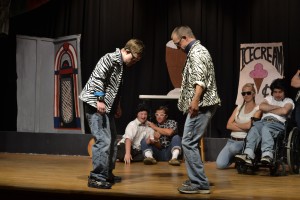 But the McFly brothers win the dance-off.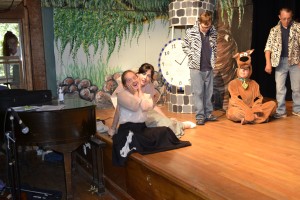 Now Claire thinks the brothers are really dreamy!
It's obviously pretty gross when your own mother has a crush on you, so the McFly brothers run to Doc for help in getting Back To The Future. (Doc is alive because they're in the past, so he hasn't been killed yet. Got it?)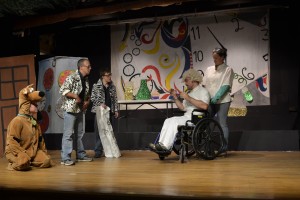 Doc warns them not to interfere with any events or they might change the future.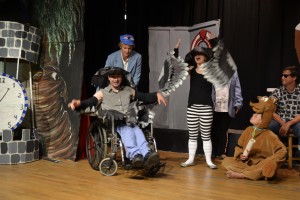 But obviously they don't pay any attention to this, so they call carrier pigeons (Sarah O. and Jeremy) to deliver a letter to the Ronettes, Elvis, and the Beatles, asking them for help in getting their dad to be cool. Because clearly the way to be cool is to be in a band, am I right?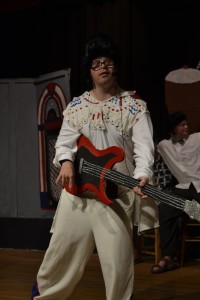 Elvis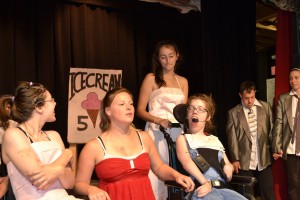 The Ronettes (Darcey and Emmy) sing "Be My Baby." (I'm not gonna lie, I cried.)
The Beatles (Michael F. and Chris M–I think they were Ringo and Paul?) sing "Hey Jude" to the real, live Jude!
In rehearsal, we generally only cried tears of laughter because "Hey Jude" was so funny. But in the actual performance it was also really touching.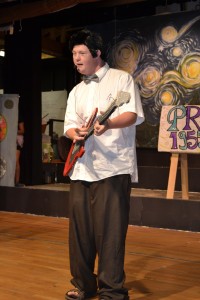 The McFly dad/James B. is a fast learner, so he immediately could play the electric guitar.
And at the high school prom, he won Claire's heart. They sang "What A Wonderful World," making me cry again. Then there was an unscripted marriage proposal. (This seems to happen a lot in our plays for some reason.)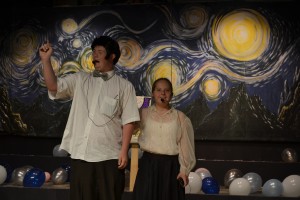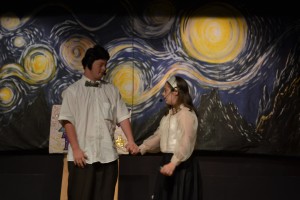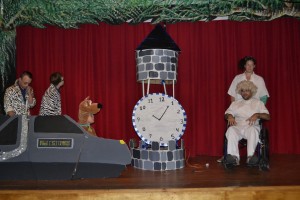 Then the brothers and their dog use the power from lightning striking the clocktower (remember that?) to get back to the future.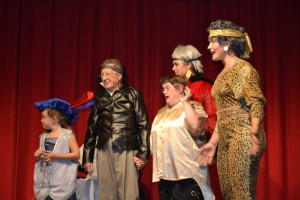 Only things have changed, and now their whole family is famous rock stars.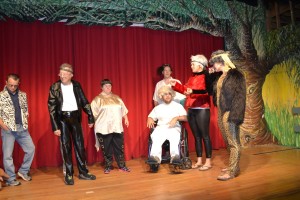 And Doc isn't dead, because he was able to warn himself about the bad guys. Phew!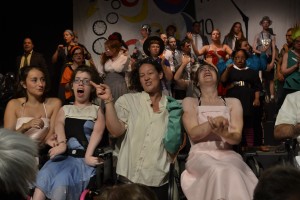 Then we had two heartwarming musical numbers with the entire cast. ("It's Time" by Imagine Dragons and "Time After Time" by Cyndi Lauper. That's clever, right? Songs about time?)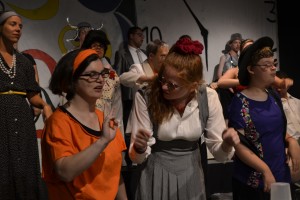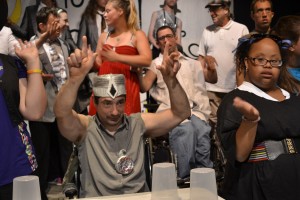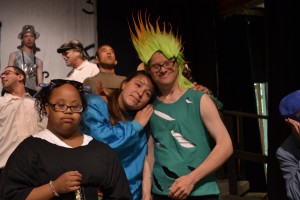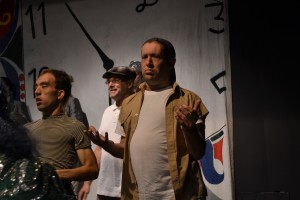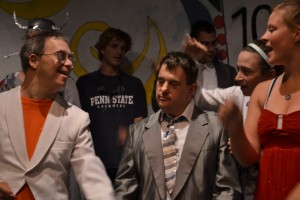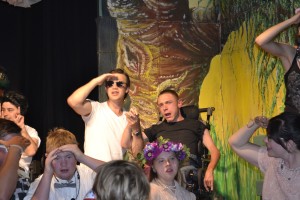 For a tough guy, Kyle looks pretty emo. I think he's really just a big marshmallow!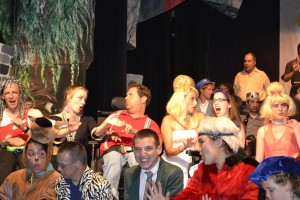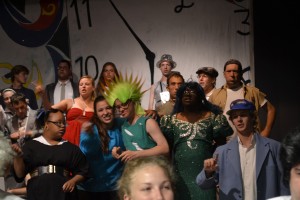 Let me tell you, not every version of the Imagine Dragons song has the opening percussion part done with cups, or incorporates a violin!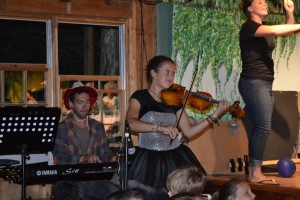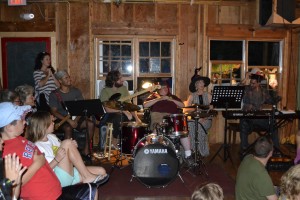 Our splendid house band: Trevor, Avery, Adam, Cindy, Andy, and Olivia.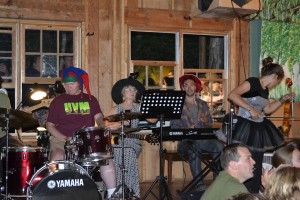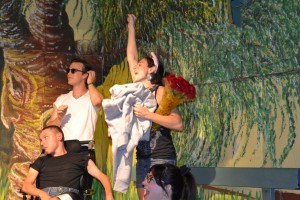 Flowers for our talented and hard-working director/playwright Brie.
Various people filmed the play also, and we'll post that when we get our act together.
Everyone at camp is so happy and proud of our amazing play. All our hard work paid off!