Everyday is such a fun day at camp… and someone's birthday. HAPPY 19TH BIRTHDAY TO AMANDA!
To celebrate we had a delicious hot breakfast (YES. SAUSAGE.) and then hit the road to the Edgartown Movie theatre where we saw the new Disney Pixar film, Inside Out. It was a huge hit!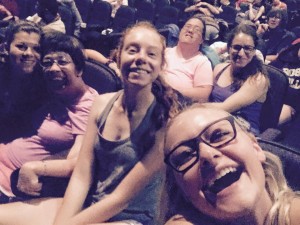 Some of the sweetest ladies, all smiles
In the afternoon, most friends headed downtown while a small crew went to the beach! 
Kendra starts a new tradition, walking Liza's dog Fenway with August director/July helper extraordinaire, Jack.
Speaking of traditions, camp enjoyed the age old one of challenge night! 
The night ended with some clear winners, but no losers. 
Love,
Camp