Today, we woke up to cloudy skies and chilly weather.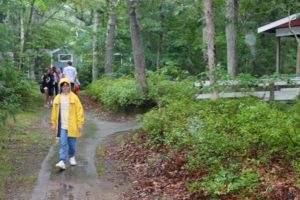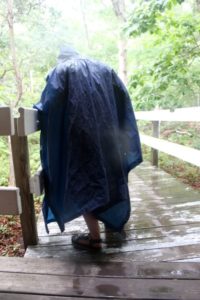 At first we felt a little blue at the prospect of crummy weather and no beach trip.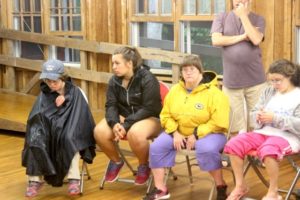 However, we soon rallied and made our own fun at camp, in true Jabberwocky style.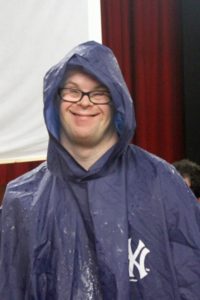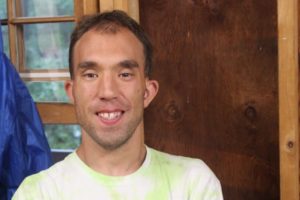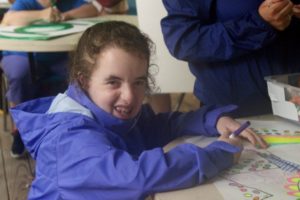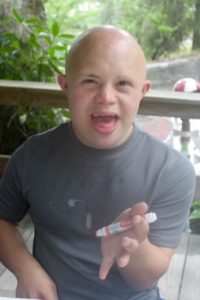 Our classes today consisted of yoga with Allison, art, and sign language with the lovely Colleen!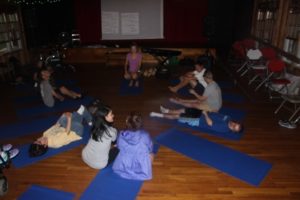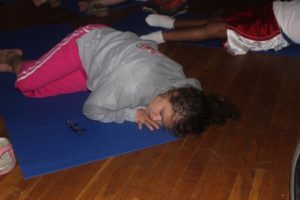 Yoga and meditation brought Moriah to a whole new level of relaxation.
The decorations for our SUPERHERO BALL tomorrow are coming along nicely thanks to all the hard work that people have been putting in during our class periods. We can't wait for everyone to see us and our lovely décor tomorrow night!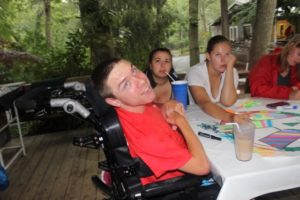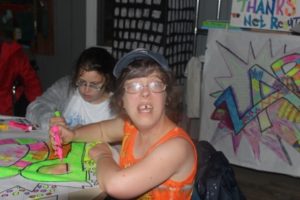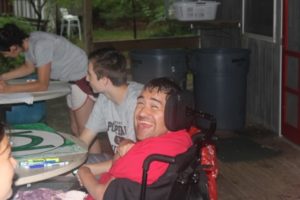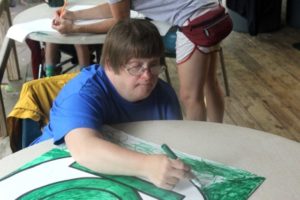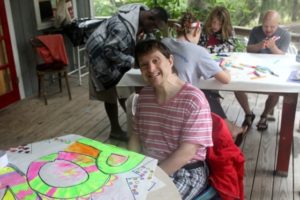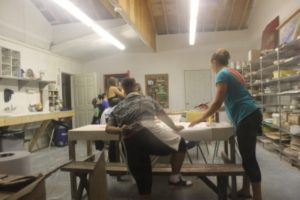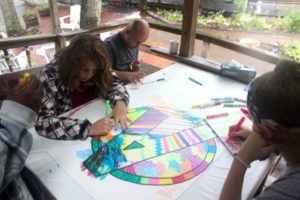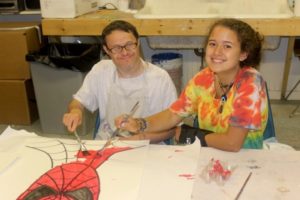 Everyone was really excited for sign language class, we're always looking for more ways to communicate with our friends!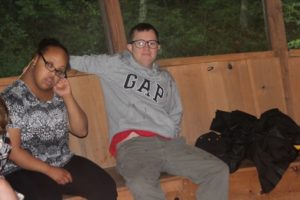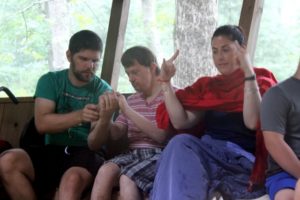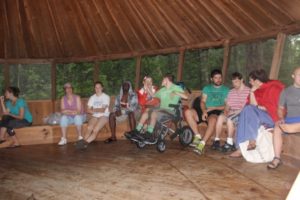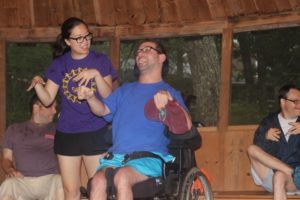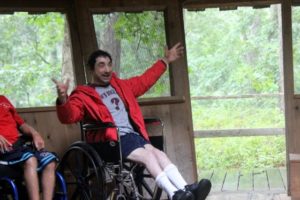 We had a PIZZA PARTY for lunch! (There are no pictures, we were all too busy stuffing our faces.)
Then, we washed down our pizza with a healthy dose of BUTT WHUPPING–I mean, friendly cabin challenges!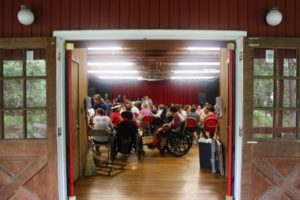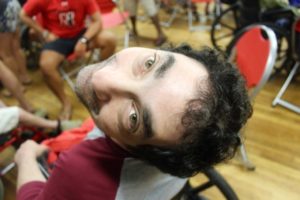 For Cabin Challenge Day, our esteemed panel of judges compiles a list of daunting challenges. Each cabin selects the worthiest competitor, and the battle then ensues on stage for everyone to see.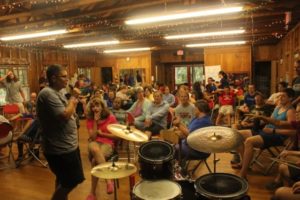 Today, the challenges included…
SUPER HERO POSES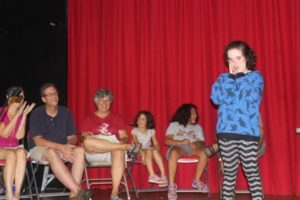 Adina swept the competition for cutest super hero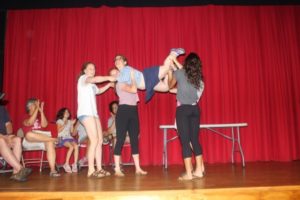 But Hannah B. flew away with the prize.
IMPRESSIONS AND IMPERSONATIONS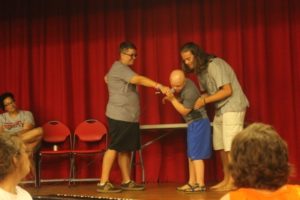 Is that Joey or a cow?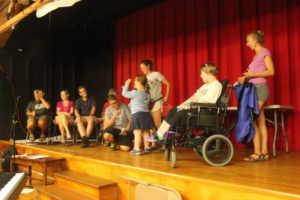 Is that Hannah B. or Jack?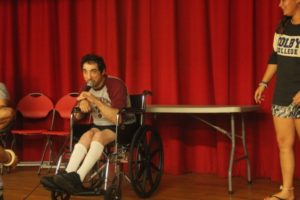 Is that Jeremy, or a dog, or a parrot???
BEST PICK-UP LINES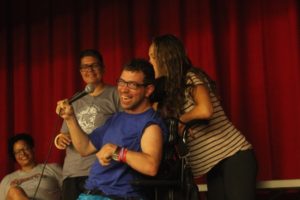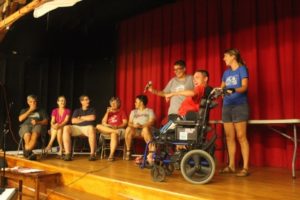 Look out everybody, between Kyle and Paul, your heart is sure to be stolen.
DANCE-OFF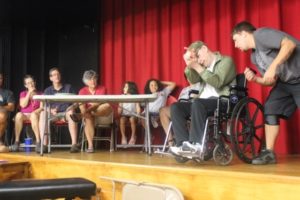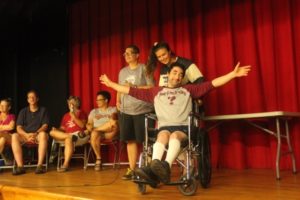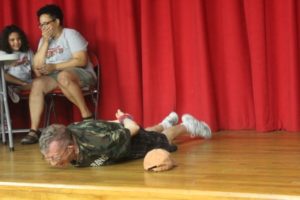 Richard did a stirring interpretive piece to "Bad Boys," the theme song from the TV show, Cops.
JOKE TELLING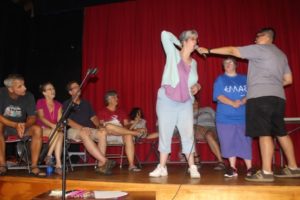 Somebody call Comedy Central and get Gracie and Stacey their own hour long special!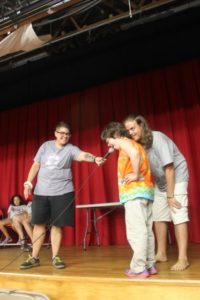 Sarah Low got political with her humor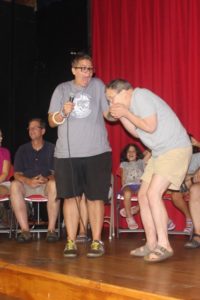 Cy brought down the house!!
STINKY FEET
Nora was honored as the only judge for this challenge!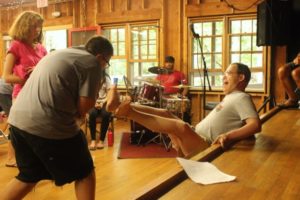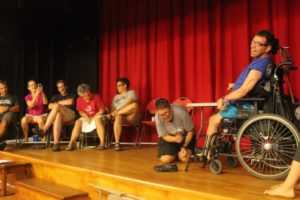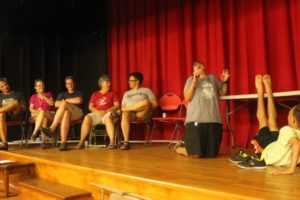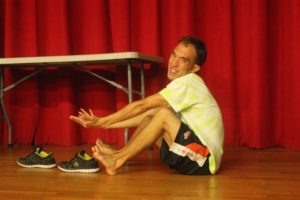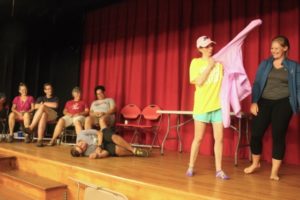 All in a day's work for Livy!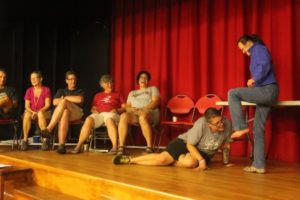 But, Annette's feet actually smelled lovely!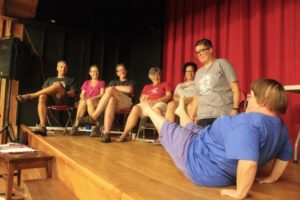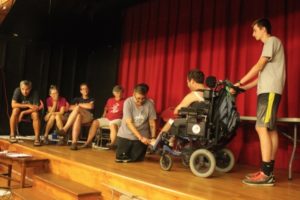 However, Justin's smelled so bad that Nora ran screaming from the room!
PLATE BALANCING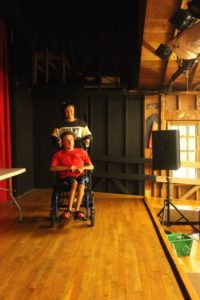 Kyle passed this challenge with flying colors, but he made it look so easy that some people wondered if he deflated the plate without the officials' knowledge.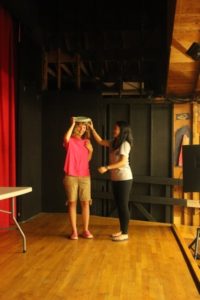 Unfortunately we can neither confirm nor deny such rumors because Hannah H. worked so hard that the plate broke and we ended the challenge there!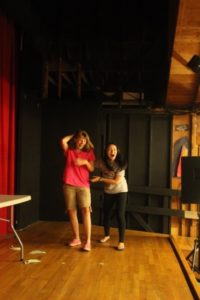 Kyle won best balancer, but Hannah won best smile!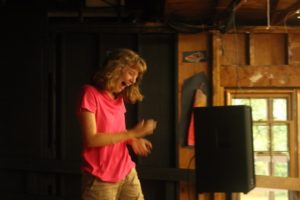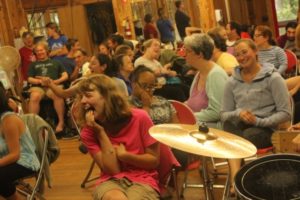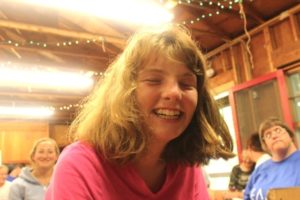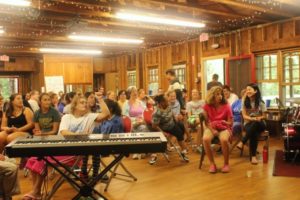 After dinner, the sun decided to peak out around the clouds. We were so thrilled that we went MINI GOLFING to celebrate!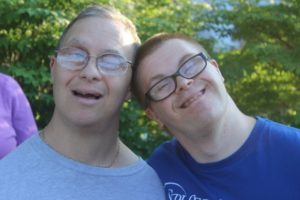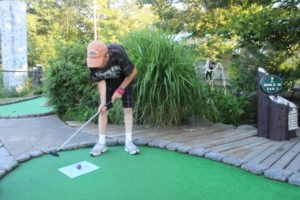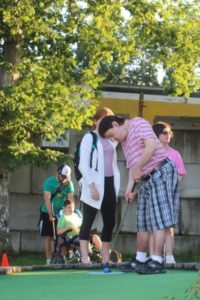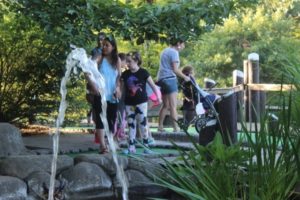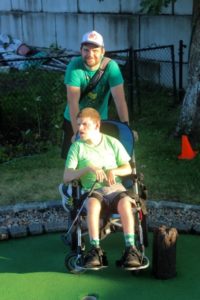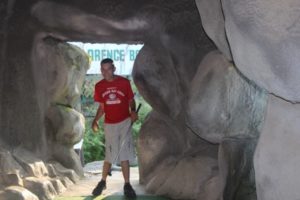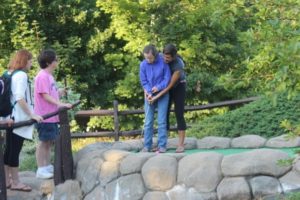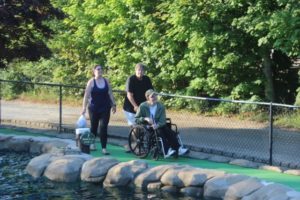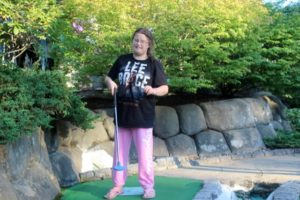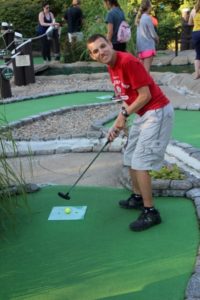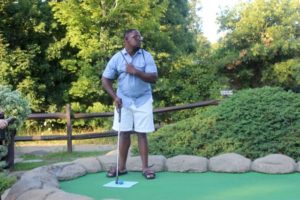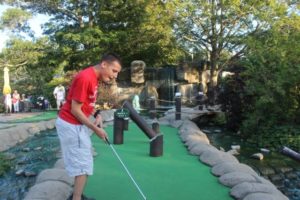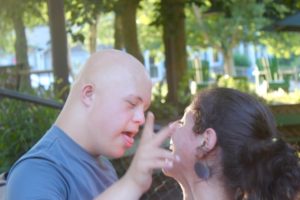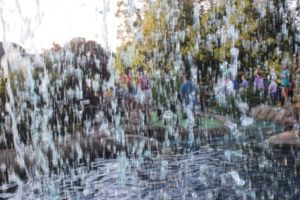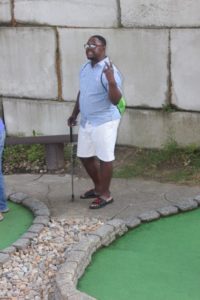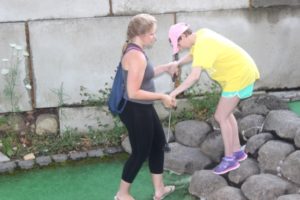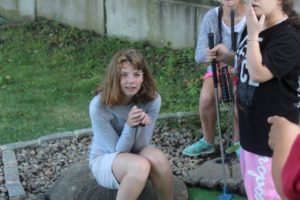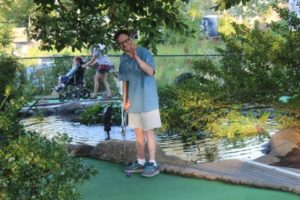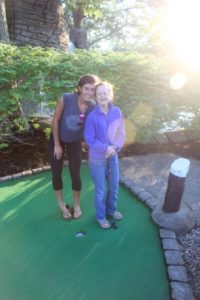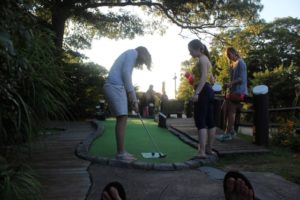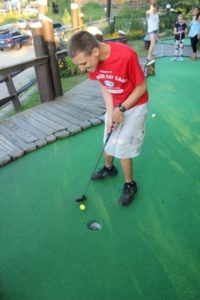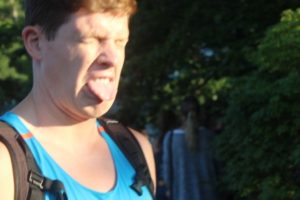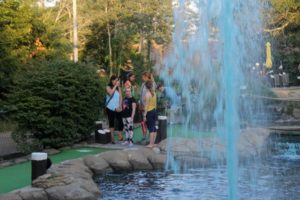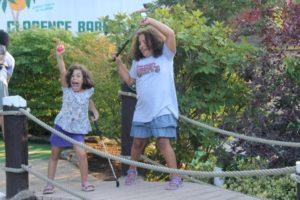 Jack cut us a deal–if you got a hole-in-one, he'd buy you ice cream. And if you didn't get a hole-in-one, he'd console you with a free ice cream. He sure drives a hard bargain.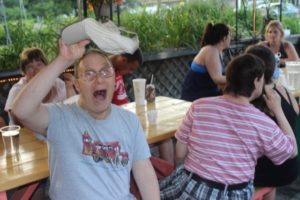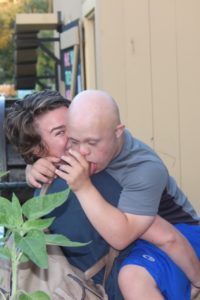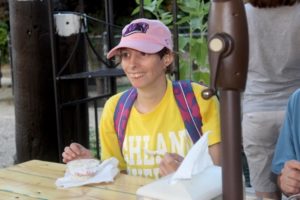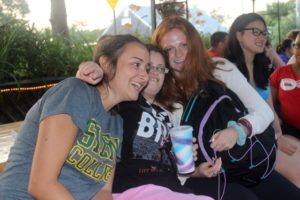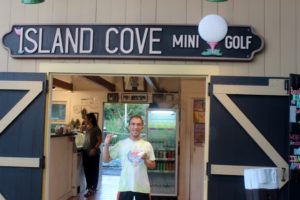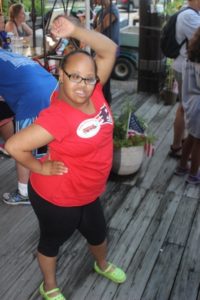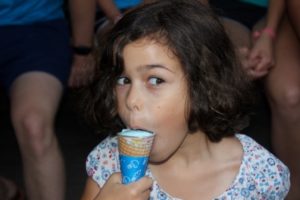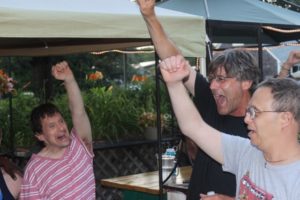 As we finished up our sweet treats, we gave a hip-hip-hooray to Island Cove Mini Golf, led by the inimitable Michael F.!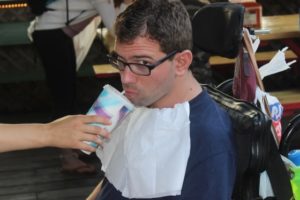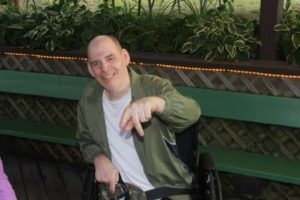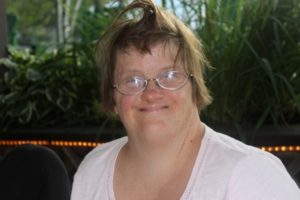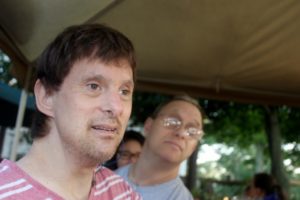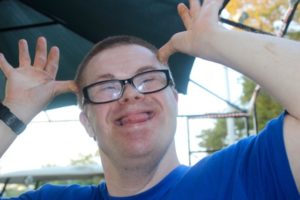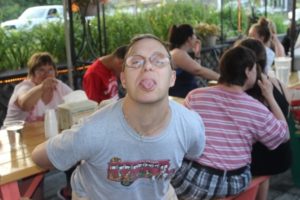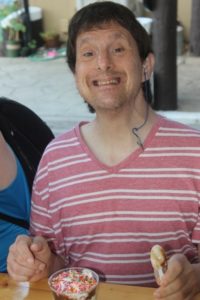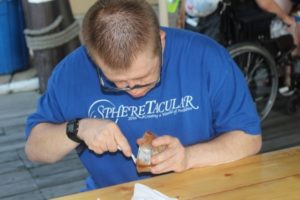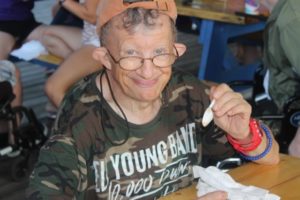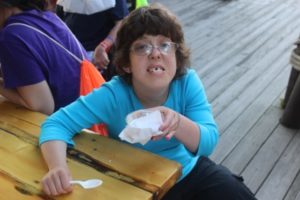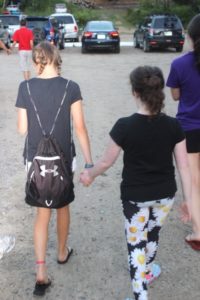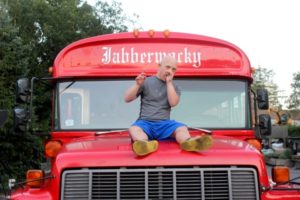 Worn out from all the competition today, we dove into our beds as soon as we got back to camp. We'll call it an all-around victory.
Love, 
Camp