We are in full swing over at Camp Jabberwocky! 
This morning we woke up flawless, rolled out of bed, and immediately put our swimsuits on. After wolfing down a quick breakfast, Matt rang the bell and Camp split up into two groups to head out on a full day of adventures!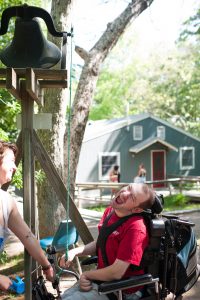 One group went to the left to the left… of the island all the way to Aquinnah to go paddle boarding. This crew practiced balancing, being centered, and meditating in the beautiful ocean. Another group stuffed their faces with french fries, the hot sauce in their bags, and soda in Oak Bluffs, then maybe got ice cream. So really, win-win.
Here's a few lovely snaps of the active and outdoorsy paddle boarders, riding on their paddle boards. Tim would be proud (we miss you, Tim!)
And here's some photos of our lazy townies. Tim would still probably be proud (come visit, Tim!)
Okay beige bucket hats now let's get in formation!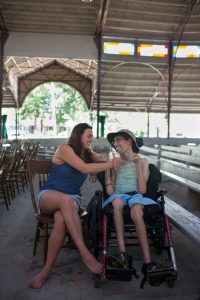 After these two activities, we did NOT go back to camp, pass go, or collect $200. Instead we all headed straight to the beach to meet up, have a rest period, and hear about each others' mornings. The water was way choppier than yesterday, so only a few brave souls went into the ocean. Other people read books, played catch, listened to Beyoncé, and generally got down like that.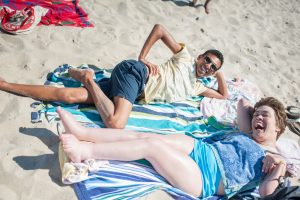 Nancy and our NEW AND WONDERFUL NURSE TYLER spent the afternoon lounging and generally being two of our favorite people. It's hard work being so great.
Scott was lounging in a superb beachside hole, but his prime property was jeopardized when the tide started coming in! Luckily, the twins were there to jump in and save the day by making him a moat and sandcastle wall to keep him dry. It worked for awhile, but eventually the tide did come in and the walls came tumbling down, so we had to move Scott to higher ground.
Others stayed far away from the whitecaps and decided to survey the beach scene from a drier, less sandy spot on the boardwalk. Then one thing led to another and there was a model photoshoot. Black and white seemed appropriate. Work it out.
The beach was fantastic and sunny and no one got lost at sea, we think! After some showers to get the sand off our skin and out of our mouths and belly buttons (how did that even happen?!), we put on some PJs for dinner and had soooo many helpings of thanksgiving sandwiches made by the fantastic crew of Michelle, Bella, and Kaitlin. Earlier, the produce company gave them lemons so they made lemonade!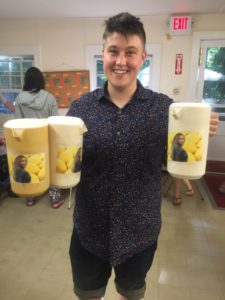 Since we were full and in our PJs already, we decided to take it easy tonight and watch a movie in the studio! We snuggled up and rocked out to High School Musical, which may or may not be preparation for the play (which is July 15th and 16th). We love High School Musical and we ain't sorry.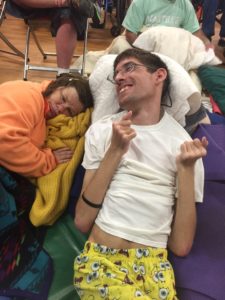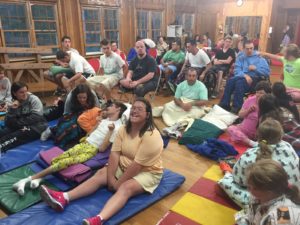 Now most of Camp is passed out in their bunks to recharge for yet another very exciting day tomorrow! Can't wait to live it then tell you about it after!
Love,
Camp
ps there are 10 Beyoncé quotes (ish) in this post. Good luck.