GOOOOOOOOOD MORNING CAMP JABBERWOCKY!!!!!
That's what we can say every morning now that CAMP JABBERWOCKY IS BACK IN SESSION!!!
We're so excited that we could all barely sleep last night! We spent the past few days getting Camp ready and perfect and shiny so campers could come and we can spend the rest of the summer make it messy and well-loved. 
We put on our finest church clothes to go politely and quietly greet the campers at the ship. GOT YA! Actually we wore flamingos on our heads and yelled a lot.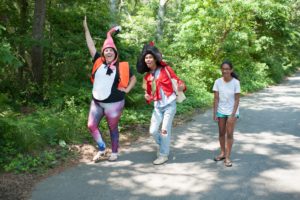 THE REUNION WAS SO JOYOUS! LOOK!!!! (CLICK ON PHOTOS TO LOOK AT THEM BIGGER!)
And then once we were reunited in the arms and hugs of our best friends, we trooped back to Camp to catch up with old pals, get to know new ones, hang out on the porch, and fill our faces with buffalo chicken wraps (LUNCH!) and homemade mac and cheese (DINNER!!)
Special shout out to our old-friends-new-cooks for the week MICHELLE AND BELLA!!! We love you guys thanks for crossing the threshold into the kitchen for a week to provide us with protein and love and chocolate!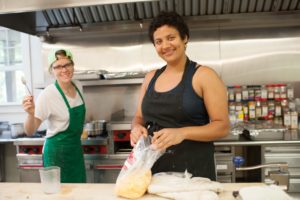 We also had delicious birthday brownies. 
Birthday brownies, you ask?
YES, birthday brownies. Because it is RYNO'S BIRTHDAY TODAY!!! HAPPY BIRTHDAY RYNO!
(Sidenote I have no idea how these movies work so… sorry. This is a test)
We celebrated Ryno's birthday and the first day of Camp by loading up our trusty bus and vans and our BRAND NEW WONDERFUL MINIBUS THANKS TO THE NEWMAN FOUNDATION to head to Aquinnah to watch the sunset and take a group photo!
Aquinnah was ugly.
Got ya again! It was as beautiful as us. See?
Also we ate ice cream and saw a baby skunk, but thankfully there's a boring end to that story.
Now all the campers are in bed and all the counselors hope to be in bed soon. It's great though, because usually we dream about Camp Jabberwocky but now we are literally living the dream.
IMG_7998.mp4 (again sorry if this movie fails, it's been awhile…)
See you tomorrow! We can't wait!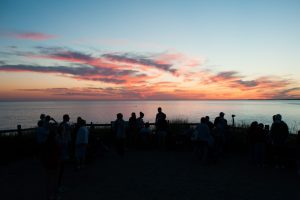 Love,
Camp