Hello! Today was a fantastic day. We started off with some music, where Sharon and Jon won an MVP award for singing so well and having so much energy! Congratulations, let's see who will be the next music MVPs to step up to the plate! 
Then we had a lot of different classes. We had lantern painting, where we water colored white lanterns so we would be able to have a Jabberwocky illumination night tomorrow (yep! that's right!). If you don't know what illumination night is, I promise it will be explained in more detail tomorrow, but for now let it be shrouded in mystery. 
Another class was ceramics, where Eliza came back and helped Sam, Sharon, and Shirley use the pottery wheels! Everyone chose a different limb.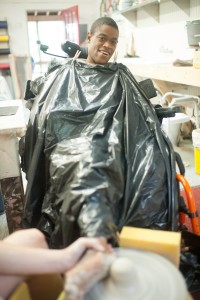 It was their first time using the wheel and everyone made some really impressive, functional bowls and cups!
Another class was sports class, where they played baseball and kickball and practiced trash talking and spitting, probably.
Back up on the art porch and the bricks, an exciting promposal was occuring!!
Emily celebrated this glorious occasion by immediately going for a bike ride with Dom.
Another group of people went to horseback riding, and had a lovely, horsey time. There are incredible photos taken of this, but the website is not working and it is very sad. Hopefully this will be fixed soon, very sorry everyone. Same goes for some gorgeous beach photos by Hannah (we went to the beach this afternoon!)
And yet ANOTHER group went to a writing workshop this afternoon! Their prompt was to write about someone who had a greatly positive impact on their lives, and the stories were heartfelt, sincere, and very well-composed. 
This blogger is going to go to sleep and try to figure out the problem tomorrow… But in the meantime please know we love you and we look forward to another wonderful day tomorrow. 
Love,
Camp